Düsseldorf: Green Metropolis on the Rhine
Duesseldorf
Düsseldorf, the state capital of Germany's most populous state, North Rhine-Westphalia, is situated in the heart of Western Europe. It forms part of the Rhineland Region, which has over eight million inhabitants, and the Rhine-Ruhr Region with around 10 million inhabitants. Despite having a population of only 630,000, Düsseldorf has a huge catchment area and the city is a growing: over the past five years the population has gained around 30,000 new inhabitants, including many young people. The city's comparably young population is certainly a positive demographic trend.
Düsseldorf has grown around the Rhine River, which is the city's central geographical feature. This university city is regularly listed in the top ten of the world's most livable cities. In 2017, it came sixth in the renowned Quality of Living Ranking from the consulting firm Mercer.
The Rhine metropolis is an international business hub and is home to numerous corporations. Thanks to its setting in the lowlands of the Lower Rhine, Düsseldorf enjoys some of the mildest winters in Germany.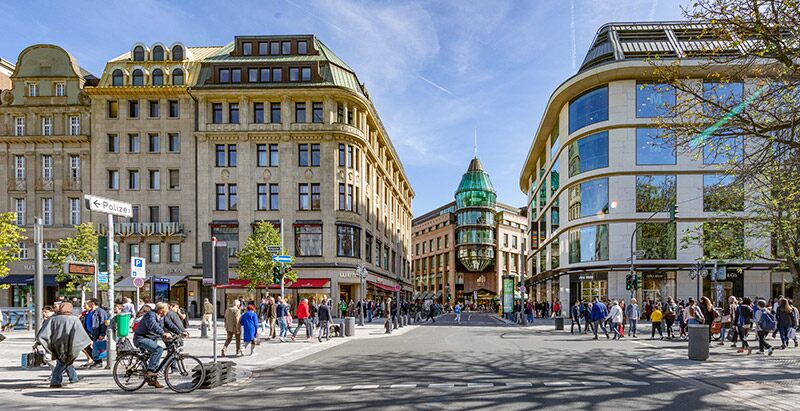 At the heart of west Europe
Düsseldorf's central location in Europe's largest conurbation ensures excellent transport connections. Düsseldorf Airport is the third largest in Germany and, with many international connections, one of the most important transportation hubs in western Germany. From the city's train station, high-speed trains take you to Cologne in 24 minutes and Frankfurt in 92 minutes. Several highways link Düsseldorf in all directions – Amsterdam or Brussels, for example, can be reached in just over two hours.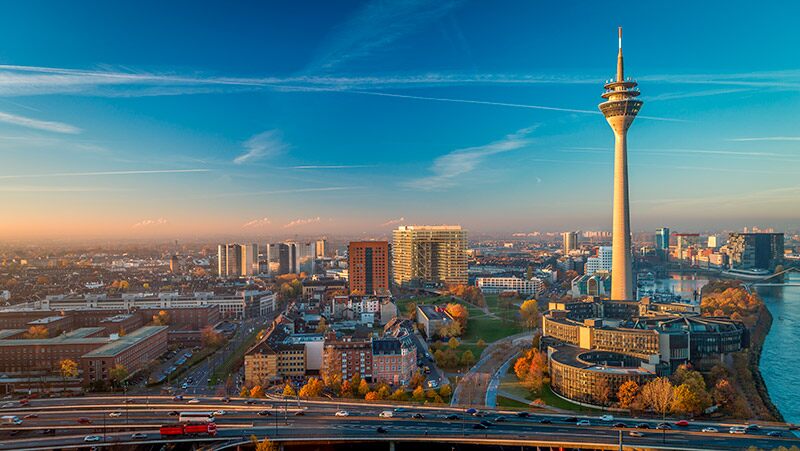 Open-minded and international
Düsseldorf, with its ideal location on the Rhine, has long been an important hub for the European economy and trade. Perhaps this is one reason why the local culture is considered particularly open-minded. The people of the Rhineland are famous for their conviviality and looking beyond their own backyard. This can also be seen at the lively tables of the numerous independent breweries, where Düsseldorfers strike up conversations with guests from all over the world, where professors rub shoulders with workers, and young people share a round with pensioners while enjoying Altbier and bar snacks. It's not only visitors and tourists who appreciate this openness, but also numerous expats, including a particularly large number of inhabitants of Asian descent. As a proportion of its population, Düsseldorf has Europe's largest Japanese community. Koreans and, in recent years, an increasing number of Chinese people have also chosen to settle on the Rhine. With Germany's largest cherry blossom festival, a Buddhist temple, artistic Japanese gardens and Michelin-starred sushi restaurants – the Asian community makes Düsseldorf's a city like no other in Germany.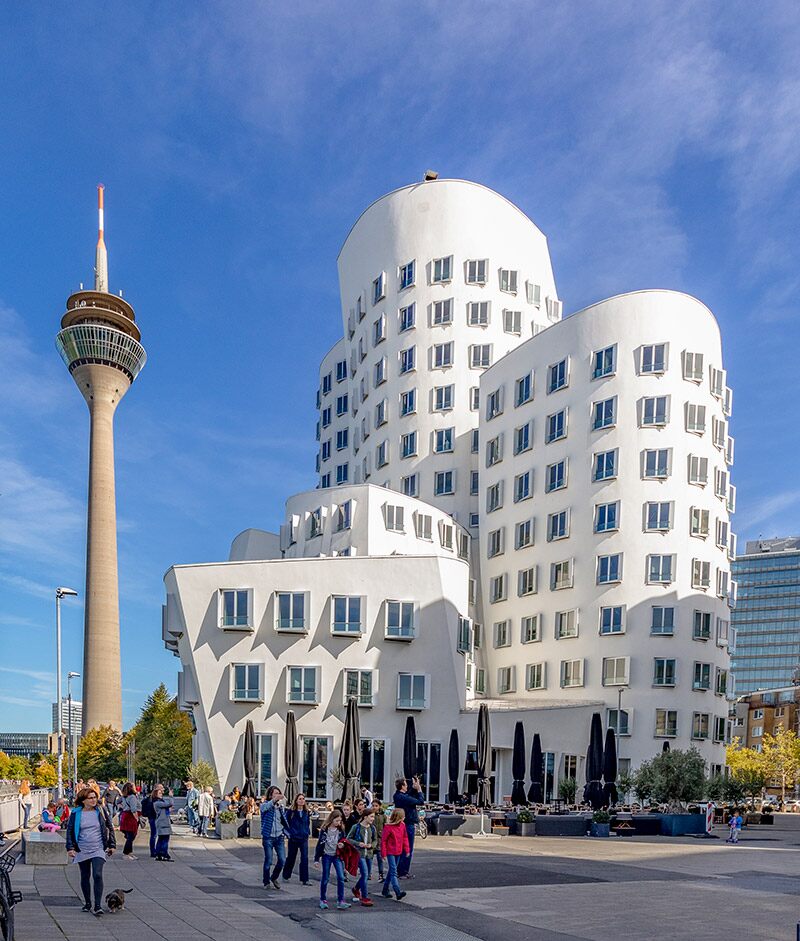 Potent business hub
Over the past decades, Düsseldorf has transformed itself from the "home of the pen-pushers in the Ruhr area" into a modern service metropolis. The city is an important center for creative industries with over 4,000 companies in this sector. Large advertising agencies such as BBDO, Grey and TBWA have based their German headquarters here. After Frankfurt, Düsseldorf also plays an important role as a banking and stock exchange center: More than 170 banks and branches are present here, including HSBC Trinkhaus & Burkhardt, which is headquartered in the city. Large insurers such as the ERGO Group, Provinzial Rheinland and ARAG also operate out of Düsseldorf. International companies such as Metro, Rheinmetall, Henkel, L'Oréal and Vodafone have their headquarters or German headquarters here. Esprit, a fashion group based in neighboring Ratingen, is one of the largest of the more than 1,000 textile trading companies in the Düsseldorf area. With over 1.5 million trade visitors, the city is also one of the most important trade fair cities in Europe.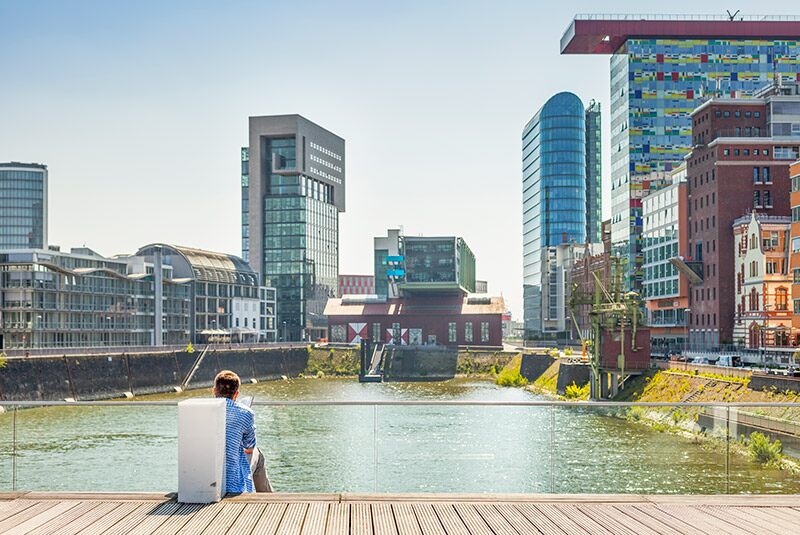 Varied and convenient
Düsseldorf is a city of short distances and combines a variety of influences in a small area. From the modernity of Medienhafen, with its striking skyline created by top architects such as Frank O. Gehry, Renzo Piano or David Chipperfield, it is only a 20-minute walk along the picturesque Rhine embankment to Düsseldorf's historic old town with its lively backstreets. From here, Königsallee, the stylish shopping street with numerous designer and luxury shops and chic terrace cafés, can be reached on foot in just under ten minutes. Green areas on both banks of the Rhine invite you to relax. The large meadows of the Rhine Park on the right bank can also be reached in just a few minutes from the city center and is a popular area for sports. Walkers and joggers enjoy a fantastic view of Düsseldorf's old town from the natural left bank of the Rhine.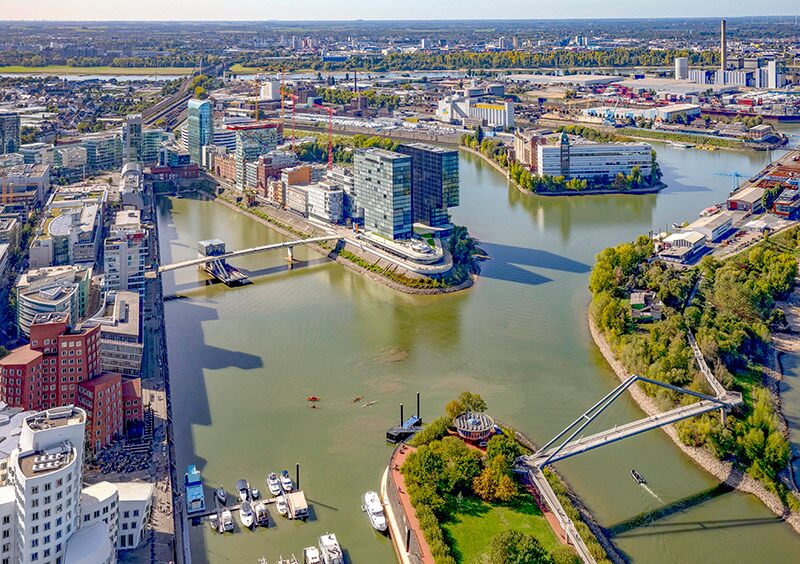 Europe's art capital
The Rhine metropolis has grown over decades to become one of the most important locations for art and culture in Europe. Founded in 1773, Düsseldorf's Fine Art Academy, one of the best art schools in the world, boasts such prominent teachers as Andreas Gursky, Peter Doig and Katharina Fritsch. With K20 and K21, the Kunsthalle, the KIT, Museum Kunstpalast and NRW Forum, the metropolis has an immense density of major art museums in the immediate inner-city area. These are flanked by over 100 galleries and international collections, such as the Julia Stoschek Collection and the Philara Collection. This proximity to art can also be felt in everyday life in the city – on a small scale at the artists' tables in breweries, at performances in bars such as the Salon des Amateurs, or at major events such as the recent appearance of Düsseldorf's legendary electronic band Kraftwerk at the start of the Tour de France.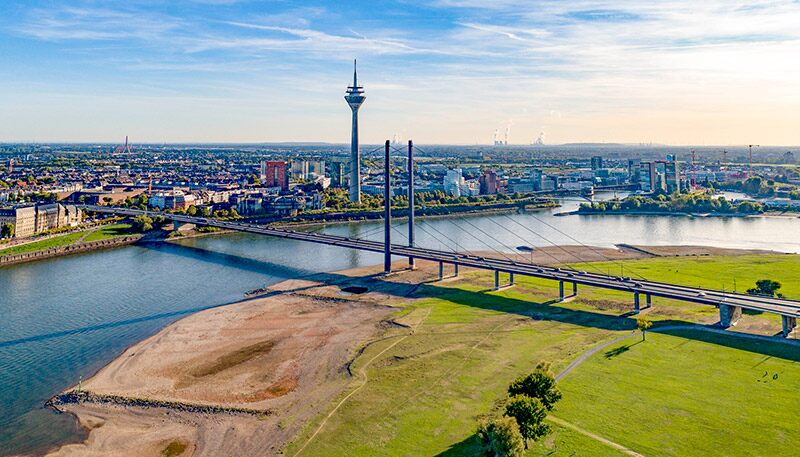 The Düsseldorf real estate market
Düsseldorf is one of the world's most livable cities and has excellent connections to the rest of western Europe. Hardly any other city in Germany offers such a great variety of urban culture and architecture in balance with generous green and water areas. The booming economic area centered on the Rhine metropolis, combined with the high quality of life, attracts many new residents to the city. Officials in North Rhine-Westphalia expect the population to increase by a further 10 percent by 2040.
Residential properties in Düsseldorf therefore represent a solid investment opportunity. In the less expensive districts in particular, asking prices rose strongly in the second half of 2017. In some cases, growth rates hit double digits compared with the second half of 2016: for example, in District 7 (Gerresheim, Grafenberg, Hubbelrath, Ludenberg) by 17.9 percent or in District 8 (Eller, Lierenfeld, Unterbach, Vennhausen) by 12.4 percent.
The rental market has followed a similar trajectory: in District 6 (Lichtenbroich, Mörsenbroich, Rath, Unterrath), the asking rent per square meter rose by 4.6 percent in the second half of 2017 compared with the same period of the previous year. Asking rents for new apartments increased by two percent in all districts in 2017 compared with the first half of the year.