The Spandauer Vorstadt can best be described as a world unto itself. This is Berlin as a cosmopolitan city: the whole city seems to be concentrated into a few square kilometers. Friedrichstrasse marks the start of a little tourist circuit. It passes Oranienburger Strasse and the former Tacheles Art House, where U2 were photographed for their legendary album "Achtung Baby" in the early 1990s. The whole area around this intersection has long had a loud and lively flair: Friedrichstrasse and Oranienburger Strasse were major entertainment districts even in the 1920s.

This vibrant section of road ends abruptly after just a few meters, at the turning into Auguststrasse, where middle-class residential blocks lend a pleasant sense of tranquility. Yes just a few meters further again, at the corner of Tucholskystrasse, the lively atmosphere is restored – culinarily speaking too, as this is the location of one of the City's Michelin-starred restaurants: the Pauly Saal. Directly behind, people dance the night away in the venerable Clärchens Ballhaus, and crossing Grosse Hamburger Strasse takes you back to Oranienburger Strasse, the synagogue and the former post office. The whole walk takes 20 minutes, but you sense much of the legend that has surrounded Berlin since the 1920s.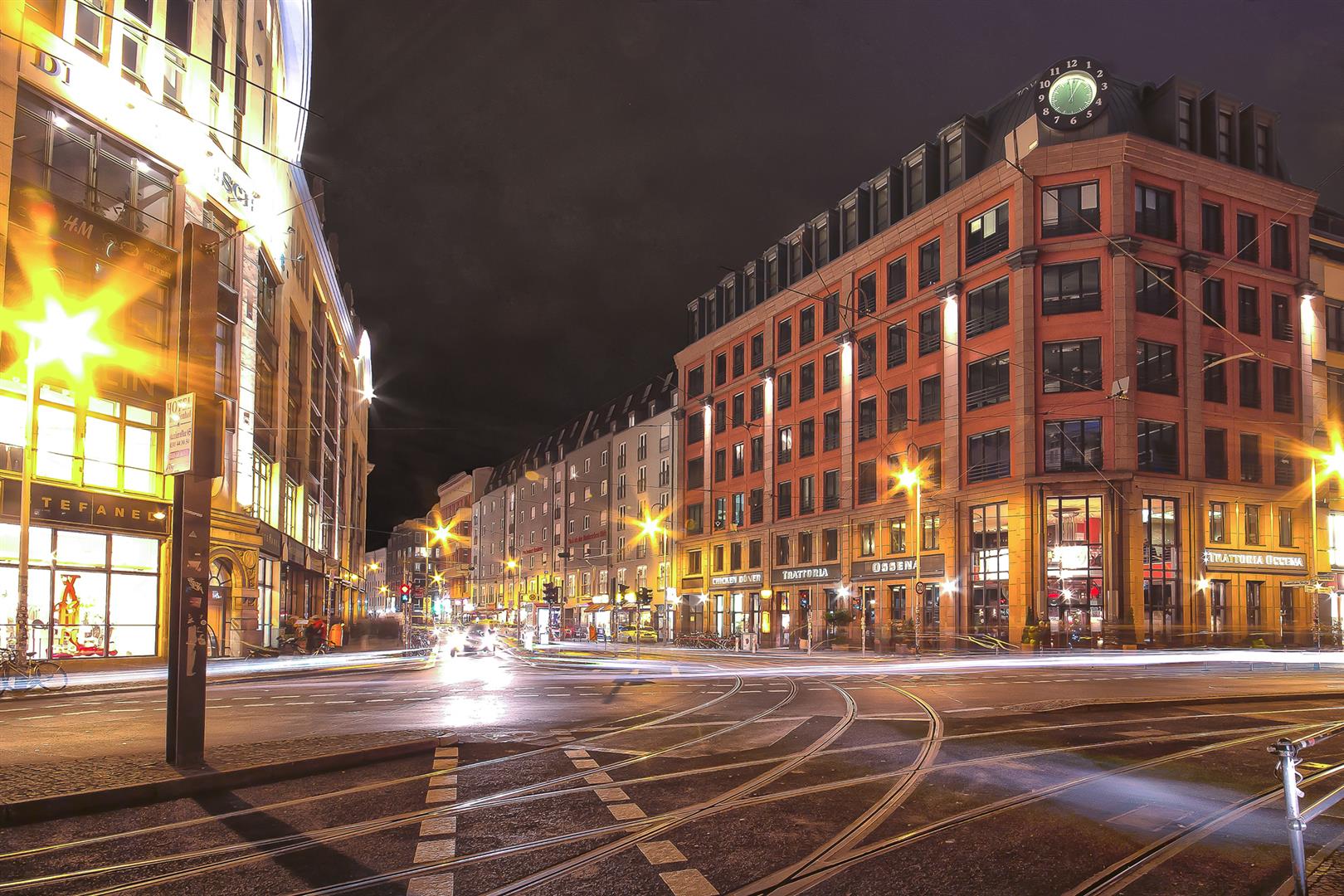 In the early 20th century, the eastern part of the Spandauer Vorstadt, known as the Scheunenviertel, became a social flashpoint marked by poverty, prostitution, and petty crime, it had a poor reputation amongst Berliners. By contrast, the western edge the Spandauer Vorstadt became a center of middle-class Jewish life. The Scheunenviertel was destroyed by the Nazis and World War II, and anything left largely fell into decay during the GDR era. Only Sophienstrasse was spruced up for Berlin's 750th anniversary celebrations in 1987.
So it was a rather desolate Spandauer Vorstadt that entered the new Federal Republic in 1990. It was the first of Berlin's districts to experience a real boom that shapes its atmosphere to this day. The Spandauer Vorstadt is home to artists, journalists, gallery owners, business people, and people of independent means. And Jewish life has returned to the area around the synagogue. At the southern end of the district, the Hackescher Markt area with the Hackesche Höfe courtyard complex, one of Berlin's biggest tourist draws stands as a sort of gateway marking the border to the rest of Berlin.