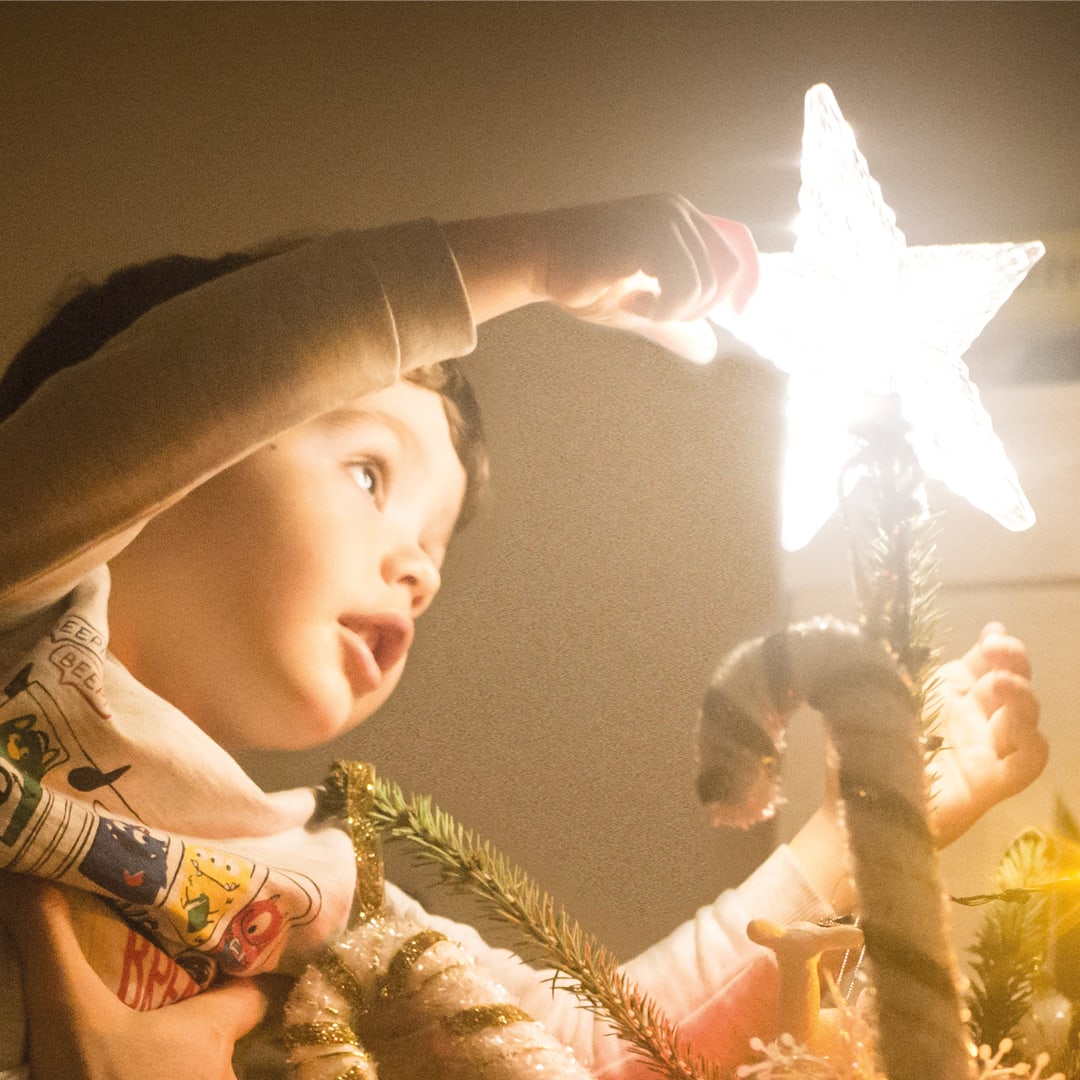 Deck the halls!
The living room is at the heart of the home this season. Try these decoration tips to turn up the festive cheer.
Sophisticated, neutral tones work really well
Nothing says Christmas more than glittering golds and shimmering silvers, both of which go beautifully with a neutral colour scheme. Swap out sofa cushions and replace with embellished and beaded options, all in burnished shades of pewter and rose gold.
When it comes to Christmas tree ideas, experiment with a frosted tree and add decorations of icy pinks and muted golds nestled among lengths of warm white fairy lights.
Make a simple centre piece for your coffee table by displaying additional baubles and decorations in a large mercury-effect bowl, and pop tea lights in glass jars beside it.
Try a natural theme
A fresh, natural vibe is always a winner during the holiday season, especially when using fresh winter flowers and foliage. Foraging is a fun way to get into the spirit and to perfect your seasonal decor, so don't be afraid of taking a pair of secateurs out on your next winter walk and seeing what you can find. Just be sure to leave any hedgerow finds outside for a day or two, to let any insect stowaways make their escape.
A good way to make the most of a rustic living room is by bringing the outside in with branches of fragrant evergreen and pinecones. When choosing where to position your decorations, think about where the focus of the living room will be – the tree, fireplace, or coffee table – and plan around it.
Homemade potpourri adds a rich, beautiful fragrance to a room. Tie bundles of cinnamon sticks and pop them in a bowl with pinecones and a sprinkling of cloves for a richly scented, festive potpourri. Garlands and rattan decorations are another way of exploring this theme, as both utilise natural materials and textures.
Add some lights to your window
With the long winter nights drawing in, this is the perfect time of year to layer the lighting in your living room. Once you have your main statement ceiling light and fairy lights wrapped around your tree, think about illuminating your space even more with some Christmas window lighting.
These lights don't need to flashy and disco-like – although plenty like it that way. On the contrary, warm and diffused lighting makes for a wonderfully cosy and comforting aesthetic. Lamps and soft downlighters are also perfect for picking out the tree, food tables, drinks bars and other focal points in the room where people gather.
Mix and match rustic textures
A lot of people find some contemporary seasonal styles for living rooms a little too modern and futuristic. If that sounds like you, hold back from the flashing lights and pastels and try experimenting with a more rustic feel for your decor. Making this style work is all about being brave with mismatched textiles, materials, and patterns - giving people plenty to touch and explore. Try layering a pretty vintage patchwork rug over a real wooden floor and then start working your way upwards. A comfy cream upholstered chair with some checked scatter cushions makes a lovely spot for wrapping presents near the fire – accessorised with a small wooden log-effect candleholder for soft downlighter or late-night present wrapping. Hanging some vintage pictures on wooden wall panelling adds a touch of old-fashioned heritage homeliness - and embroidered or knitted throws and accessories can also help create a lovely cosy feel. This style also mixes well with natural plant décor – see above for details!
Mix the old with the new
As lovely as heirlooms and hand-me-down festive decor are, interior styles move fast, and things can go out of fashion quite quickly. But, with care and due diligence, you can still create a traditional decorating scheme that keeps older relatives and the kids happy for including their handmade items, while still looking stylish and chic.
If you have a classic fireplace that retains its original Art-Deco tiles, for example, try pairing it with a modern piece of furnishing inspired by the same era. This is a great way of combining a reassuring, more traditional feel with stylish, contemporary elements.
You can also apply the same thinking to big centrepieces such as the tree. Try giving a timeless red Christmas tree theme a touch of luxe with a generous sprinkling of gold. Start with a set of shatterproof balls in jewel-like red tones, then add nostalgic red Nutcracker figures, traditional Father Christmas ornaments, opulent red birds, and future-heirloom gold and red floral ornaments. Then tie everything together with a studded red velvet bow topper for an unexpected twist. Or give your festive guests a very warm welcome with opulent Christmas fireplace decorations, featuring seasonal foliage, perfectly placed stockings, and an array of glowing candles.