Frankfurt am Main
The Secret Capital
As one of Europe's richest and most vibrant cities, Frankfurt is in many respects Germany's secret capital. The city on the Main River has consistently ranked among the top three cities for international companies since 1990. Frankfurt has developed an extremely strong reputation, especially among financial sector companies, large numbers of whom are based in Frankfurt. Along with Deutsche Börse and the European Central Bank (ECB), they ensure Frankfurt's status as a major international financial center.
At the same time Frankfurt is also home to a host of companies from a wide range of other fields. From the creative economy to the telecommunications industry, from biotechnology to pharmaceuticals, and from real estate to the automotive sector, a huge number of multinational companies are headquartered in the gateway city of Frankfurt.
Frankfurt is also world-renowned as being one of the oldest fair cities in the world. Important trade fairs such as the International Automotive Fair, the Frankfurt Book Fair, and Ambiente – the most important showcase of the international consumer goods industry – make Frankfurt's exhibitions a destination for around 2.4 million visitors per year.


The city's central location, excellent infrastructure, and outstanding international connections have firmly established Frankfurt as a desirable base for companies, and as a world-class venue for trade fairs and congresses. With one of Europe's largest airports, Frankfurt has long since positioned itself as one of the world's most important international transportation hubs.
An impressive 60 million passengers, and more than two million tonnes of air freight, pass through Frankfurt Airport each year. In what is Germany's largest single center of employment, almost 500 companies are based at the airport, employing around 80,000 people, almost 20,000 of which are employed by the airport's operator, Fraport.
Frankfurt is a local hub, too. The city on the Main River has around 724,000 inhabitants – and more than 656,000 employees. Frankfurt's 50,000 companies offer more workplaces than there are employees in the city. Due to this, over 350,000 employees commute daily to Frankfurt. This number of commuters is on the rise: not only does the city have a competitive employment environment but also, it is on the top of German cities' list regarding employees' average salaries.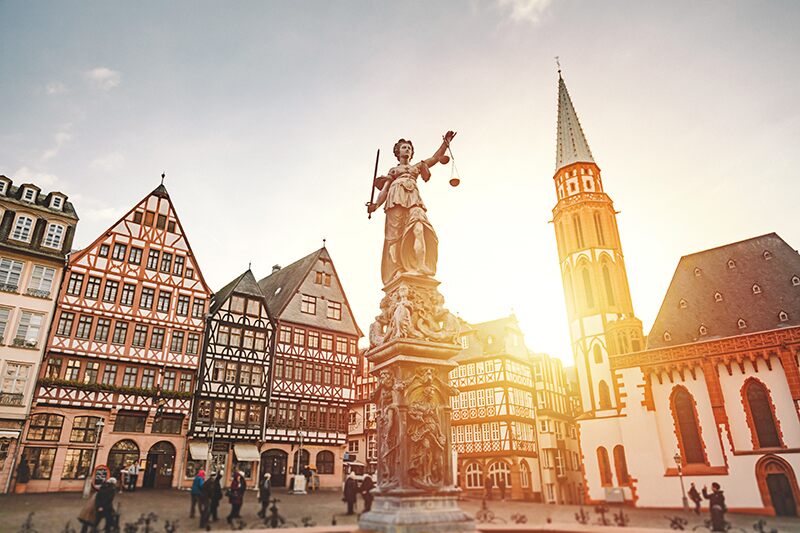 Frankfurt has much more to offer than just a strong economy. This is not only the birthplace of Johann Wolfgang von Goethe, but a multitude of other German-language writers and poets, all of whom have found fame beyond Germany's borders, such as Heinrich von Kleist, Friedrich Schiller, and Gottfried Benn, lived and first presented their revered works here.
By any measure, Frankfurt is a cultural epicenter. The city's opera house stages approximately 180 performances per year and is recognized as one of the most prestigious opera venues in Germany and Europe. The city's countless theaters also provide a wide range of staged entertainment, catering to every conceivable taste. Stage curtains rise more than 100 times per week across the Main metropolis – opera, musicals, variety, cabaret, dance, shows, operettas – there is nothing the stage offers that is not presented on Frankfurt's stages.
Museumsite Frankfurt
Dozens of galleries exhibit art of every description, and the city's museums have so much to offer: Along Frankfurt's Museumsufer (or Museum Embankment) – one of Germany's most important museum centers – a 1.5 km stretch of the Main River is lined by museum after museum. Frankfurt's historic center is the city's next most significant site for history lovers and art aficionados, offering an abundance of world-famous museums and exhibition houses, many of them designed and built by internationally renowned architects such as Oswald Mathias Ungers and the New Yorker Richard Meier.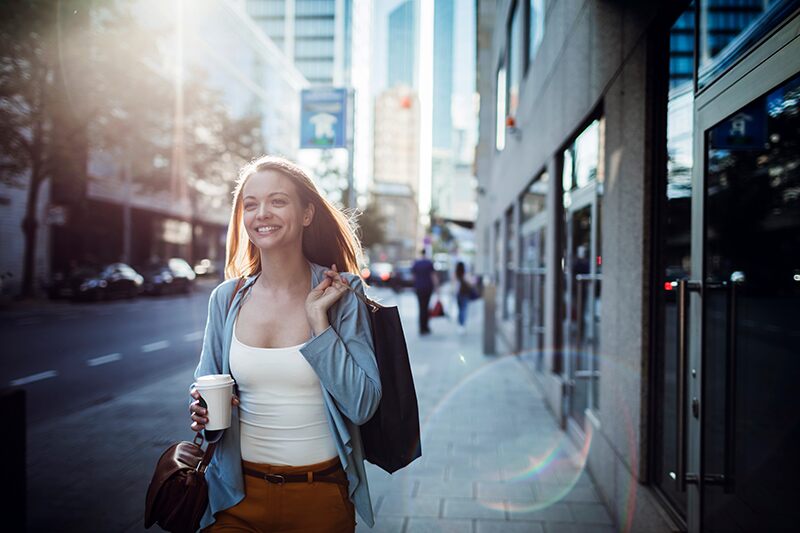 Life in the Main Metropolis
Its extensive cultural landscape and strong economy have established Frankfurt as an undeniably attractive place to live and work. The city is perfectly in tune with the times we live in – although it has not yet succumbed to the stresses of a mega-city. The major global financial center creates a unique harmony between the magnificent bourgeois apartment buildings lining Römerberg and the impressive high-rise skyline of the central business district. Cosmopolitan city flair and homely comfort are often divided only a few footsteps. The well-populated streets of the city's banking district switch to narrow lanes and streets lined with half-timbered houses and cider wine inns and to one of Germany's most frequented shopping areas – it is the city's contrasts that make Frankfurt so special.
Attractive Contrast
Frankfurt's contrasts are bought into sharp relief by its residential property markets. Whereas some neighborhoods have an imposing charm thanks to their prestigious turn of the twentieth century apartment buildings, other quarters represent the cosmopolitan vitality and modernity. Frankfurt's population treasures these unique charms. At the end of 2015 there were more than 724,000 people living in the Main metropolis – almost 16,000 more than a year earlier. The city's population is growing at a rate of 44 new Frankfurters per day, and, as it grows, the city is becoming ever more international. People from roughly 180 different countries now live together here, and almost one in three of Frankfurt's citizens are non-German.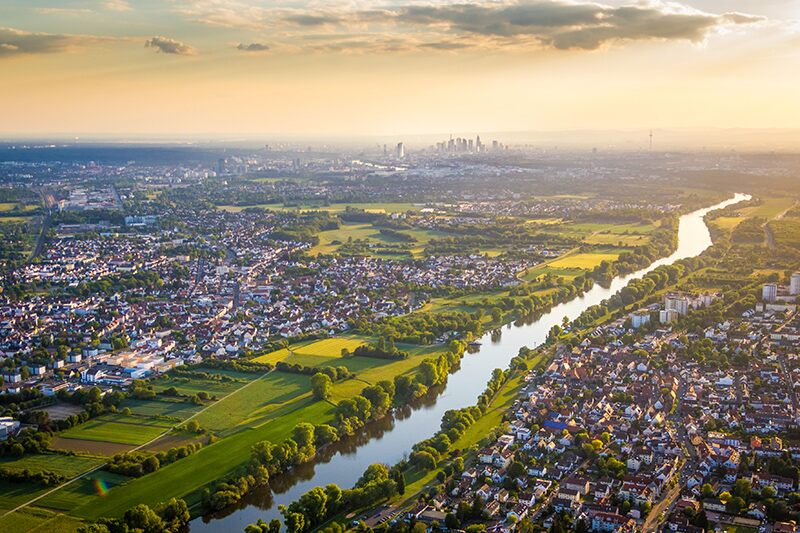 Green and Multi-faceted
Life in Frankfurt is as rich and pleasant as it is diverse. Thanks to the city's relatively compact size, downtown Frankfurt, home to the Alte Oper at Opernplatz, exclusive boutiques along Goethestrasse, the culinary highlights of Fressgass, the historical town center, world-famous Römer, and popular Kleinmarkthalle, couldn't be more convenient. And, while the Bahnhofsviertel around the central rail station attracts crowds to its vibrant party scene and diverse nightlife, the West End's historical villa-lined streets offer the perfect backdrop for jogging or a gentle stroll, nestled as they are between the Palm Garden and Opernplatz.
Approximately one-tenth of the city is given over to water, recreation, and park areas. Surprisingly idyllic urban woodlands, the city's extensive greenbelt, and its exotic Palm Garden, along with more than 50 lakes, pools, and ponds, provide the perfect environment for the city's population to soak up the sun and enjoy the relaxation and inspiration of Frankfurt's outdoor amenities. The Main River is unmatched in terms of local recreation and, as the city's major river, was a key factor in Frankfurt's foundation and growth. Whatever the season, the river caters to both sports enthusiasts and to those seeking a more relaxed pace of life. The landscaped embankment promenade and countless cafés and restaurants are almost always teeming with visitors, and not just at the height of summer or in good weather.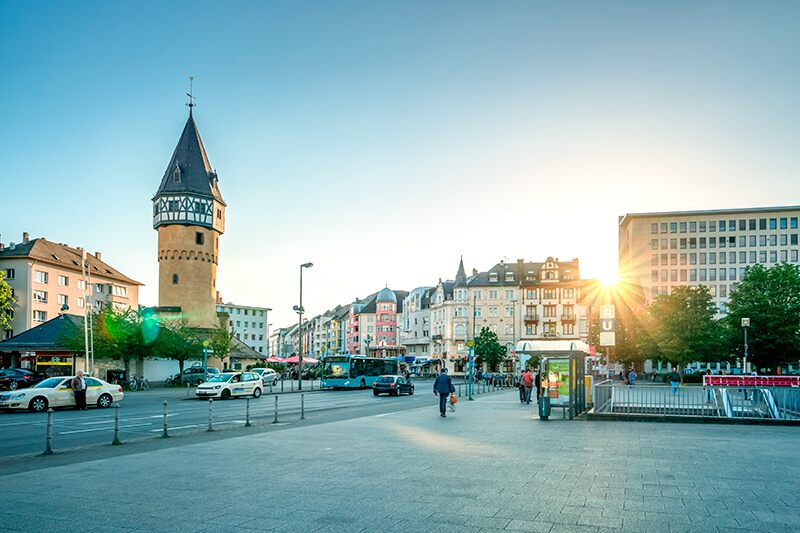 Strong Residential Property Market
Given Frankfurt's wide array of strengths and unique features, it is no surprise that demand for housing in the city is so strong. Living space is, however, in relatively short supply: The "active market vacancy rate" in the Main metropolis at the close of 2014, i.e. apartments either available immediately or in a matter of a few short months, was a mere 0.6 percent, having fallen continually since 2006. The level of new residential construction has been unable to keep pace with the uninterrupted growth in demand caused by Frankfurt's sustained population growth. As a result, property values have soared and prices continue to rise. Compared to just one year earlier, rental prices had increased by around 7.8 percent to the end of April 2016. Condominium price growth was even more pronounced over the same period, with newbuild condominium prices up by 16.2 percent, and prices for existing apartments rising by an unparalleled 22.9 percent.
With central development land in increasingly short supply, and Frankfurt's population again set to grow this year, these trends are here to stay. Statisticians forecast that the city's population will swell to 810,000 by 2030, before climbing to 830,000 in 2040. The 750,000 mark is already due to be achieved by as early as 2018. These dramatic population growth forecasts should come as no surprise: According to a recent Ernst & Young study, Frankfurt is Europe's fourth most attractive city to live in – ranking higher than peers such as Amsterdam, Barcelona, and Madrid.
Growing demand for real estate and a corresponding shortage of supply have put Frankfurt firmly on the investment map. Despite the trend towards higher prices, Frankfurt's real estate markets continue to offer strong value in comparison to other major European cities, a major factor in stimulating investor interest, in particular that of international investors looking for attractive investment opportunities. Frankfurt also benefits from the overall stability of Germany's investment markets. Germany is Europe's most populous country and has the continent's highest GDP, along with an economy that has proven itself even in recent times of crisis. These are all factors that strengthen Frankfurt's claim as an investment destination, guaranteeing that the world-famous financial center will continue to offer promising property investments.