Charlottenburg
Splendid and nevertheless down to earth
Middle-class? Clearly. Boring? Not at all! Glamorous? Absolutely!

With Kurfürstendamm (Ku'damm for short), the Memorial Church, Zoo train station, and the palace - Schloss Charlottenburg, this district is a real tourist magnet. But it's not just the tourists who feel at home in the westside of the German capital with its mixed clientele of residents, Charlottenburg is every bit as multicultural as Kreuzberg.
Refined apartment buildings to the north of Charlottenburg Palace and in the former workers' settlement of Siemensstadt, provide relatively inexpensive housing in stylish areas. However, there's another side to Charlottenburg; with its magnificent Art Nouveau buildings, the Ku'damm is one of the most prestigious addresses in Berlin. Their window displays might not have any price tags, but every famous fashion label with a certain standing has a flagship store on West Berlin's flashiest boulevard. The standard of living on Kurfürstendamm and its side streets is correspondingly high-end.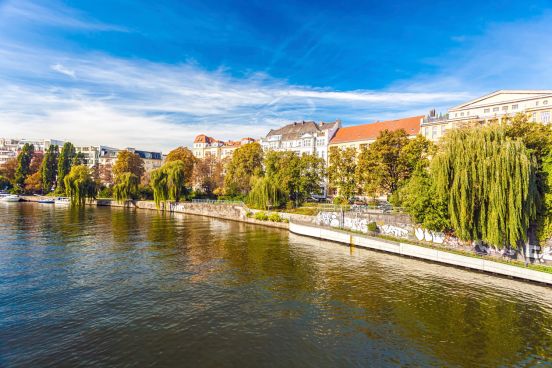 As is often the case, the charm of Charlottenburg is its mixture of styles. You can find a full range of flair- whether you prefer vintage charm or glamorous chic, or anything inbetween. Both newcomers and long established Berliners can be seen strolling the popular Wilmersdorfer Strasse and the lovely markets at Lehniner Platz & Karl-August Platz. The restaurant scene is just as exciting. From rustic cozy brassieres to extraordinary fine dining, everyone can find something to satisfy their palette.
Charlottenburg's social scene is just as diverse as its gastronomy. Charlottenburg doesn't boast any hip clubs, however, it does have numerous museums, famous churches, and a wide range of theaters. The theater scene is fantastically developed, whether one loves drama or comedy or fancy cabarets or musicals it can all be found in this neighborhood.
The musical offerings are also impressive: Deutsche Oper Berlin is the largest of the city's three opera houses and one of the largest theaters in Germany. Richard Strauss, Richard Wagner, Giacomo Puccini and Giuseppe Verdi are just a few of the composers that the opera orchestra is renowned for.
One of prettiest spots in Charlottenburg is without a doubt the eponymous castle with its gardens. The palace was built for Sophie Charlotte of Hanover at the end of the 17th century. Its park is the oldest surviving in the city. The rear area of the park, with its waterways, picturesque bridges, lawns and ponds, is particularly charming. If it hasn't already, in this park Charlottenburg is sure to win over even the biggest skeptics.