Every year, hundreds of thousands of people visit Berlin's Alexanderplatz, one of the city's largest central squares and transport interchanges. Some call it spacious, others drafty. On the subject of Alexanderplatz – particularly when it comes to the architecture – opinions vary widely. Nevertheless, if people voted with their feet, you would have to say that "Alex", as locals colloquially call it, works brilliantly. The seasonal markets held there, offering specialty foods and fairground rides, are extremely well attended. Entertainers and street artists, profiting from the large numbers of passers-by, can be encountered here throughout the day. The shops around Alexanderplatz are busy. Yes, Alex is popular – but is it beautiful? The area around Alexanderplatz and extending into Mitte, which includes magnificent buildings such as the Hackesche Höfe courtyard complex is beautiful and charming.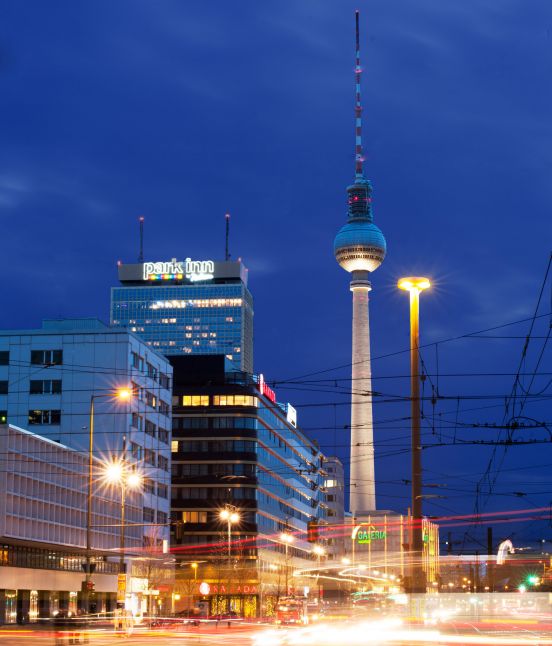 At the end of the War, not much remained of the original Alexanderplatz celebrated in Alfred Döblin's novel of the same name. Subsequently, the city's television tower – today the reunified Berlin's best known landmark – was constructed next to the rapid transit station immortalized in literature. Most visitors to Berlin call at the TV tower and take it back home with them – in model form or as a logo on a tee shirt at least.
A number of fashion labels, both large and established as well as new and avant garde, have opened for business in the area around Münzstrasse and the Hackesche Höfe, turning it into the new fashion paradise for an international hipster community. There are also great shops with vintage interiors, and of course plenty of places to eat and drink, including The Grand, a classy, uncomplicated restaurant (which also has an outstanding bar), the popular and ever-crowded Asian restaurant Monsieur Vuong, and the Cordobar, Germany's most notorious wine bar – a bacchic realm that has absolutely nothing in common with the old-fashioned wine-drinking culture found in many places. Many members of the European cultural elite live in this, and the nearby Volksbühne theater guarantees a theatrical culture that is controversial but always exciting.
Heading towards Friedrichshain, the area around Alex has plenty of old cemeteries and gardens filled with rampant greenery. A number of very interesting and architecturally exciting residential projects are under construction in the vicinity of Alexanderplatz. Like no other part of Berlin, Alexanderplatz represents the movement and constant change in the city. Still incomplete, it offers lots of new space. And nowhere else is quite as central.