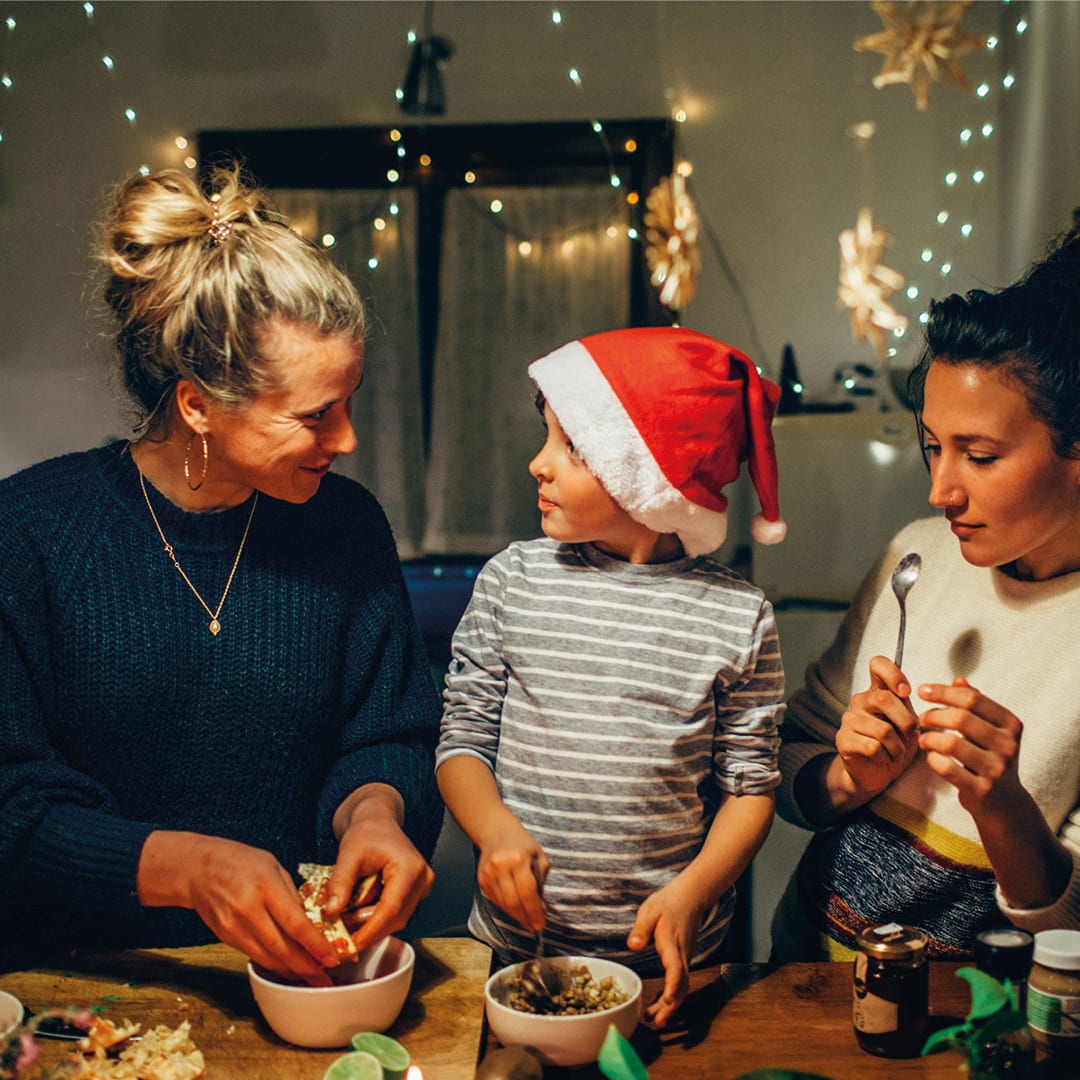 Eat, drink and be merry
Ready for some seasonal indulgence? These delicious party food recipes will take the festivities to another level.
Crab stuffed mushrooms
Ingredients

1 lb large baby bella mushrooms (about 24 mushrooms)
1 tbsp olive oil
1 tsp kosher salt
4 oz cream cheese (room temperature)
½ cup finely grated cheddar cheese
½ cup finely grated parmesan cheese
1 2 oz. jar pimentos, drained and finely chopped
2 tbsp chopped parsley, plus more for garnish
2 grated garlic cloves
8 oz. lump crab meat, picked
¼ cup panko breadcrumbs
1 tbsp. unsalted butter, melted

Directions

Preheat the oven to 400°. Place a wire rack inside a foil-lined rimmed baking sheet; set aside.
Remove the stems from the mushrooms and wipe the caps clean using a paper towel; reserve the stems for another use, if desired. In a large bowl, toss the mushroom caps with the olive oil and 1/2 teaspoon of the salt. Arrange the mushrooms, cap side up, on the prepared baking. Roast until the mushrooms are mostly tender and have released liquid onto the baking sheet, about 20 minutes.
While the mushrooms roast, in the same medium bowl used to toss the mushrooms, stir together the cream cheese, cheddar cheese, parmesan cheese, pimentos, parsley, garlic, and remaining 1/2 teaspoon of salt until well combined. Gently fold in the crabmeat.
Stir together the panko and butter in a small bowl. Set aside.
Stuff each mushroom cap with about 2 to 3 teaspoons of the crab mixture and sprinkle with about 1/2 teaspoon of the panko. Return the stuffed mushrooms, cap side down, to the wire rack lined baking sheet. Bake until the panko is golden brown and the crab filling is hot and melty, 15 to 20 minutes. Garnish with chopped parsley and serve immediately.
Latkes with caramelized onion sour cream
Ingredients

For the sour cream:

2 tbsp. olive oil
1 onion, finely chopped
½ tsp. sugar
½ tsp. kosher salt
2 cloves garlic, minced
1 cup sour cream
½ tsp. onion powder
Freshly ground pepper to taste


For the latkes

2 ½ lbs russet potatoes
2 medium onions
4 cloves garlic
1 ½ tsp kosher salt
2/3 cup panko breadcrumbs
2 tbsp. lemon juice
4 large eggs
Freshly ground pepper to taste
4 scallions, chopped
Vegetable oil, for frying
Flaky or kosher salt, for sprinkling

Directions
For the sour cream: Heat the olive oil in a medium skillet over medium heat. Add the onion, sugar and 1⁄4 teaspoon kosher salt. Cook, stirring, until the onion is golden brown and caramelized, 20 to 30 minutes. Add the garlic and cook for 2 more minutes. Let cool.
Mix the onion mixture, sour cream, onion powder, a few turns of pepper and the remaining 1⁄4 teaspoon salt. Taste and adjust the seasoning as desired. Cover and refrigerate until ready to serve.
Meanwhile, for the latkes: Using the shredding attachment on a food processor (or a mandoline or box grater), shred the potatoes, onions and garlic. Line a colander with two layers of cheesecloth and set it over a bowl or in the sink. Add the shredded mixture to the cheesecloth and sprinkle with the kosher salt. Let sit for 30 to 45 minutes (it's OK if the potatoes discolour a bit). Gather up the edges of the cheesecloth and use your hands to squeeze out any excess moisture.
In a large bowl, mix the panko, lemon juice, eggs, a few turns of pepper and the potato mixture. Stir in the scallions.
In a large skillet, heat 1⁄4 inch of vegetable oil over medium-high heat until shimmering; it's ready when a strand of potato added to the oil immediately starts to sizzle. Use a 1⁄2-cup ice cream scoop to add compact scoops of the mixture to the oil, spacing them out so as not to crowd the pan. Press the scoops down lightly with a spatula to get 1⁄2-inch-thick patties. Fry until golden brown, about 3 minutes per side. Transfer to a rack or paper towels and sprinkle with flaky or kosher salt. Repeat with the remaining mixture, adding more oil to the pan as needed between batches.
Sprinkle the caramelized onion sour cream with the chopped scallions and serve with the warm latkes.
Bacon-wrapped scallops with chili butter
Ingredients

2 lb. large scallops
½ lb. bacon, cut into thirds or halves
1 stick butter
2 tsp. chili powder
Dash of cayenne


Directions

Wrap bacon pieces around the outside of the scallops, then attach with a wooden skewer.
Cook in a 220 C oven (on a drip pan) for 20 minutes, or until bacon is sizzling and brown. (Or cook under the grill for 15 minutes, or until bacon is sizzling and brown.)
Melt butter and stir in chili powder and cayenne. Drizzle over scallops before serving.
Spinach artichoke dip
Ingredients

3 tbsp. butter
4 tbsp. garlic, minced
1 bag spinach
Salt and pepper to taste
2 cans artichoke hearts, rinsed and drained
3 tbsp. butter (additional)
3 tbsp. flour
1 ½ cups whole milk (more if needed)
8 oz. softened cream cheese
½ cup crumbled feta
½ cup grated parmesan
¾ cup grated pepper jack cheese
¼ tsp. cayenne
Extra grated pepper jack
Pitta wedges, tortilla chips and crackers to serve


Directions

Melt 3 tablespoons butter in a skillet over medium heat. Add the minced garlic and cook for a couple of minutes. Crank up the heat a bit and throw in the spinach. Stir around and cook for a couple of minutes until the spinach wilts. Remove the spinach from the skillet and put it in a small strainer. Squeeze the excess juice back into the skillet. Set the spinach aside.
Throw in the artichokes and cook over medium high heat for several minutes, until liquid is cooked off and artichokes start to get a little colour. Remove the artichokes.
In the same skillet or a different pot, melt 3 additional tablespoons of butter and whisk in 3 tablespoons of flour until it makes a paste. Cook over medium-low heat for a minute or two, then pour in milk. Stir and cook until slightly thickened; splash in more milk if needed.
Add cream cheese, feta, Parmesan, pepper jack, and cayenne and stir until cheese are melted and sauce is smooth. Chop artichokes and spinach and add to the sauce. Stir to combine.
Pour into buttered baking dish. Top with extra grated pepper jack and bake at 375 for 15 minutes, or until cheese is melted and bubbly.
Serve with pita wedges, chips, or crackers.
Fig and blue cheese bruschetta
Ingredients

1 whole baguette, sliced
4 tbsp. butter
2 tbsp. fig spread or fig preserves
Blue cheese, cut into chunks
Torn basil for garnish
Mini peppers, halved and seeded
Softened creamed cheese dip
Chopped chives for garnish


Directions

Version #1: Heat the butter in a non-stick skillet over medium heat. Toast the baguette slices until golden and crisp. Allow to cool, then spread with a little fig spread/preserves. Top with blue cheese chunks. Sprinkle on basil.

Version #2: Smear the cream cheese spread inside the hollowed out halves of sweet peppers. Sprinkle on chopped chives.

Serve with a cold glass of wine.
Garlic mustard grilled beef skewers
Ingredients

4 cloves garlic, finely chopped
¼ cup grain mustard
2 tbsp. Dijon mustard
2 tbsp. Spanish paprika
¼ tsp. kosher salt
¼ tsp. freshly ground pepper
1 tbsp. low-sodium soy sauce
2 tbsp. white wine vinegar
1 tbsp. honey
2 lb. beef tenderloin, cut into 1-inch pieces


Directions
Soak ten 6-inch wooden skewers in cold water for 30 minutes.
For the garlic-mustard glaze: Whisk together the garlic, both mustards, paprika, salt, pepper, soy sauce, vinegar, and honey in a small bowl. Cover and let sit at room temperature for 30 minutes before using.
For the skewers: Heat a grill or grill pan to high. Thread the meat onto the skewers. Brush liberally on both sides with the glaze. Grill the meat until golden brown and cooked to medium-rare doneness, brushing with the remaining glaze, 2 to 3 minutes per side.