EDEN Sky Collection
Is there anything beyond paradise?
Sky Apartments

You have our guarantee: Nothing beats the breathtaking views from our Sky Apartments. Except maybe for the exquisite furnishings, which lend an aura of timeless elegance throughout the stunning interior and are perfectly complemented by the outdoor glass balconies and loggias. The only choice you have to make: Which view is your favorite?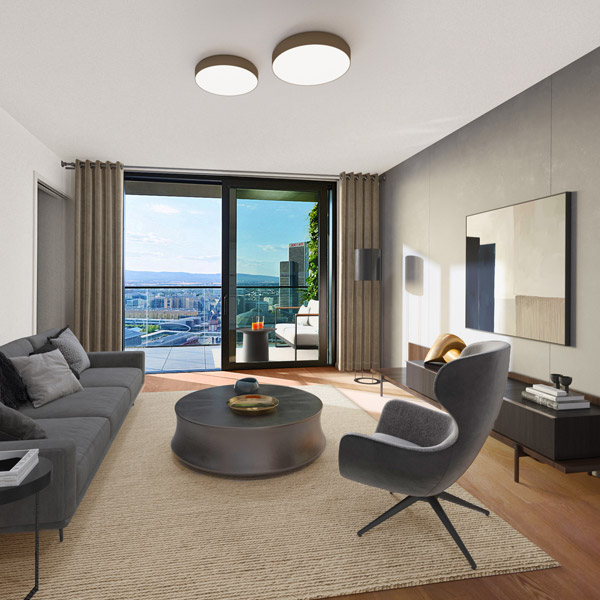 Taunus Apartments
At times, as you gaze across to the Taunus mountains, you will savor the clear contrast between treetops and the horizon, at others everything will be mystically shrouded in fog. As winter draws in, the mountains are decked in a fine, white winter coat. Whatever the season, you will be enchanted by the views of the Taunus, which offer a welcome green contrast to the urban city backdrop of Germany's banking metropolis. Let your gaze wander over the almost limitless expanse and be inspired by the verdant greenery of one of Germany's largest low mountain ranges.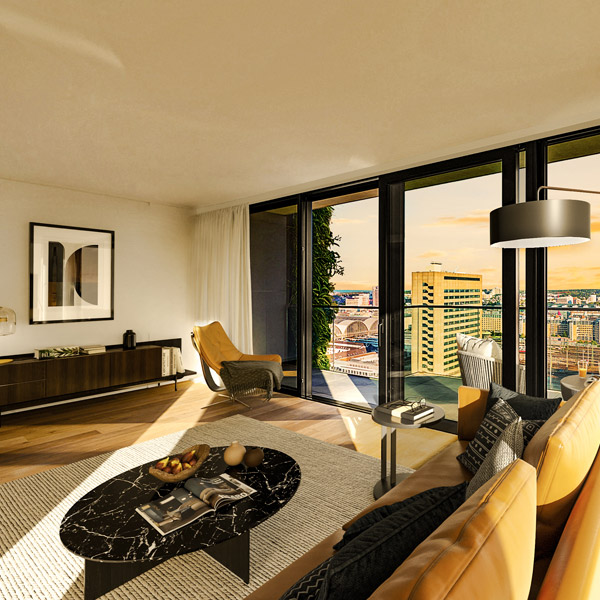 Sun Apartments
This is where the sun comes up! Perfect for early risers and aspiring early birds. From your sun apartment, you will experience the sunrise in all its clarity and power. Can a day start better than with an espresso as you enjoy the day's first rays of sun?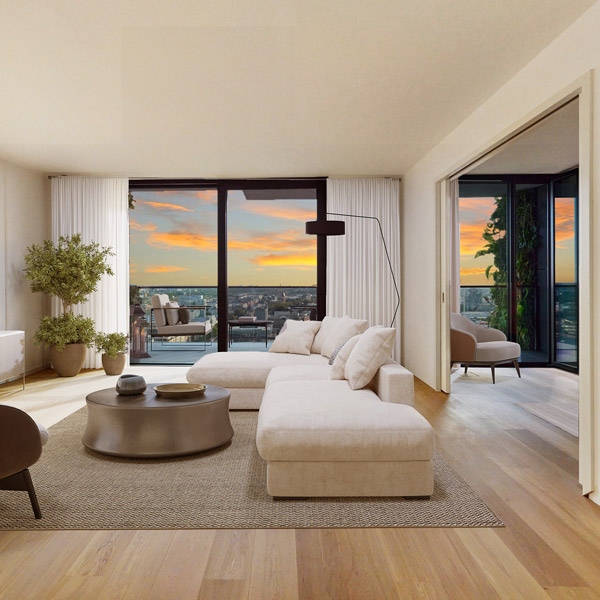 Sunset Apartments
Where better to watch the sun setting over the Main Metropolis every day than from the front row? A play of colors that resembles a watercolor and crowns the day, always infinitely beautiful.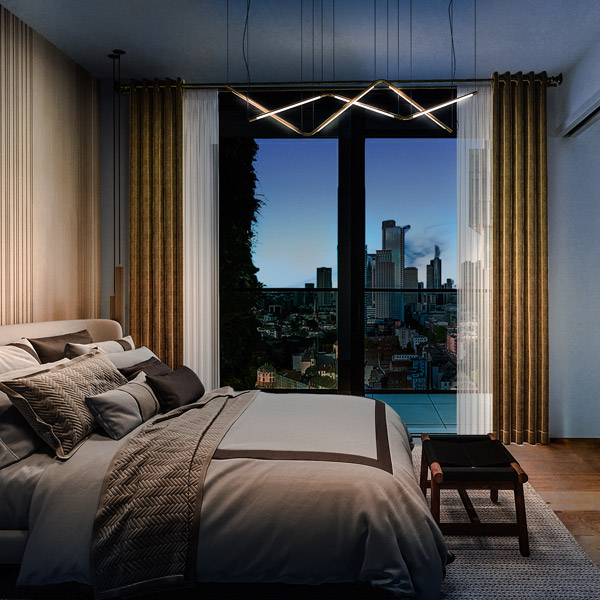 Mainhattan Apartments
The Frankfurt skyline – the heart of the Main Metropolis distilled into a single silhouette. You can't get more Frankfurt than that. An unparalleled combination of private retreat and the ultimate urban lifestyle.
Panoramic Apartments
Panoramic views – a phrase that is often so overused it has almost become a cliché. Nevertheless, there can be no more apt description for our Panoramic Apartments. Thanks to their corner location, you are guaranteed 180-degree views, further enhanced by floor-to-ceiling windows and surrounding balconies. This is the embodiment of the dream of an functional urban apartment with a first-class interior and excellent ambience.
Sky Suites

The Sky Suites are synonymous with elegance and grace. Large-format dark tiles combine the aesthetics of marble with the materiality of stone, while bronzed fittings add an extra eye-catching touch to the bathrooms. The interior design of the Sky Suites has been guided by one principle: luxury. We are ready and waiting to advise you and explain the full range of individual equipment and options for the fitted kitchen, all of which are included in the purchase price.
Area
If you live here, you have some of the most exciting neighborhoods right on your doorstep. The fine, tree-lined Westend. The chic city center with Opernplatz, lively cafés and classy stores. The young Europaviertel with Skyline Plaza and excellent infrastructure. The banking district with its dazzling towers and the creative Bahnhofsviertel with trendy bars and clubs.